Staff and board members at the ALTA Christmas lunch, December 2022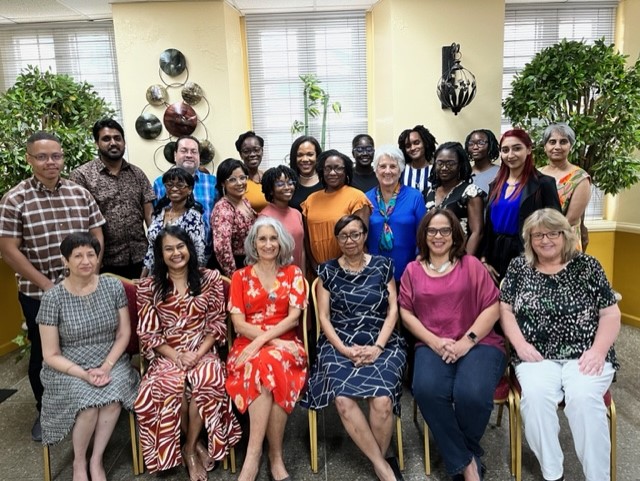 Organisation
01. How was ALTA Started?
+
ALTA was stared in 1992 by Paula Lucie-Smith, a national scholar and former secondary school teacher. In 1990, International Literacy Year, Paula had been a volunteer in a Ministry of Education/UNESCO adult literacy programme. Assigned to teach at Woodbrook Government Secondary, students came from many parts of the country to Paula's class and she continued to teach when the programme ended. She conceptualised ALTA as a way to bring together the adult literacy teachers to share ideas as well as to direct students to teachers close to their home or work. But those who joined ALTA wanted training and a programme of instruction, so ALTA quickly moved beyond networking into training and programme development.
02. Who is behind ALTA?
+
ALTA is managed by a CEO and an elected Board which comprises members of ALTA's tutor body and key partners in ALTA's mission. ALTA members meet annually to elect a Board, review the organisation's annual financial statements and plan its year of operations.
03. What were the early challenges facing ALTA??
+
When ALTA was new and unknown, it took a lot of effort to reach both tutors and students. Initially, the aim was to attract volunteer tutors who knew people who wanted to improve their reading – who therefore already had potential students. But most who volunteered as tutors did not have students or a place to teach, so in 1994 ALTA began seeking free venues to host classes. From 1994, ALTA has partnered with libraries to conduct a national student recruitment campaign at the start of the academic year.

A big challenge was attracting funding as Trinidad and Tobago boasted of a literacy rate of 95% or higher. ALTA's National Literacy Survey showed a very different picture.

The biggest challenge, continuing to this day, is the stigma attached to low literacy which makes many afraid to seek the instruction they need.
04. How is ALTA different from other literacy programmes?
+
ALTA offers the only comprehensive, structured adult literacy programme in Trinidad and Tobago. All materials and books are written specifically for learners in the Caribbean whose linguistic background has been influenced by a Creole English mother-tongue. The programme also incorporates proven methods for teaching dyslexics.

ALTA has developed an effective volunteer management and training programme to successfully deliver literacy instruction. Expert ALTA tutors are contracted as coordinators to guide tutors and maintain standards in the ALTA classroom.
Volunteering
05. What is required to become a volunteer?
+
ALTA welcomes persons with the time, willingness to learn, and capacity to make non-readers feel at ease and encouraged. Click here for ways to volunteer.
06. When are new volunteer tutors trained?
+
The ALTA Tutor Training Course is conducted after Easter over a six-week period (April-May) on one day each week from 8:00 am to 4:00 pm.
07. Do volunteer tutors receive a stipend?
+
ALTA tutors are unpaid. Volunteers who agree to be trained are asked to pay a refundable deposit of TT$100 and buy the course handbook (TT$60).
08. If I cannot commit to teaching twice a week, can I still volunteer at ALTA?
+
Yes. ALTA needs volunteers to assist students at our Reading Circles and as ALTA Online mentors. You also have lots of options as a Friend of ALTA. Contact us if you or your organisation would like to volunteer.
9. Can I do the ALTA Tutor Training without volunteering to teach at an ALTA class?
+
No – after training, new tutors are assigned to an ALTA class which serves as a practicum for the course training. To be certified as an adult literacy tutor, course participants must complete short written assignments and 150 hours of volunteer teaching. After this period, tutors are awarded a graded certificate.
Classes
10. Are ALTA classes free?
+
Tuition is FREE for all students enrolled in community and ALTA-V classes. Students pay TT$20 per term as a contribution towards their ALTA workbook and other materials.
11. What are the locations, days and times of classes?
+
Class days are Monday and Wednesday or Tuesday and Thursday. Times vary from venue to venue to provide options for students and match volunteer availability. ALTA community classes end by 7:00 pm and the latest ALTA-V class ends at 8:00 pm.
12. Can I join an ALTA class at any time during the year?
+
ALTA follows the academic calendar which starts in September and ends in July, so new students should start class in September. Past students who have not mastered a literacy level may rejoin ALTA at any time in the academic year.
13. Are there any classes in Tobago?
+
ALTA can only offer classes where volunteers are available to teach. There are currently no community classes in Tobago, but persons in Tobago can sign up for ALTA-V or ALTA Online.
Students
14. I can read a little. How do I know if I need the ALTA Programme?
+
Do you seek help filling out all forms? Have you turned down a job because of the reading and writing you would have to do? Do you send voice notes because you can't spell what you want to put in a message? If so, go to an ALTA venue on the first day of class to be assessed. The assessment is not a test and aims to see what reading and spelling you can do. The ALTA literacy tutors will then tell you if ALTA is a match for you and direct you to an ALTA class if needed.
15. Who can become an ALTA student?
+
To enrol in community and ALTA-V classes, students must be 16 years and older. Students under 15 can join ALTA's Youth Lit programme offered at selected NALIS libraries. Additionally, persons from 9 years and up can use ALTA Online, our independent learning application.
16. How do I become an ALTA student?
+
Register for ALTA Community classes at NALIS libraries on the first Tuesday or Wednesday in September. To register for ALTA-V, the ALTA programme taught virtually via Zoom, call 708-1990 in June.
17. How long does it take to become literate?
+
To give an average or typical student time frame would be misleading. Students start on the road to literacy at different points – a Beginner has a longer road than someone starting at Level 2. Only some want to go on to Spelling Programme or Level 3. One student may master a level in just one academic year, but others may need another year or two to master the level. ALTA welcomes these students back year after year, advising that they get extra practice at an ALTA Reading Circle until they are ready to move to the next level.
18. Do students receive anything reflecting their ALTA learning? 
+
Yes, ALTA awards certificates to students who have mastered a literacy level. ALTA-certified students have successfully gone on to receive School Leaving certificates, CSEC passes and a variety of qualifications.
19. Can I buy the ALTA books if I am not in an ALTA class?
+
A workbook practises what a teacher has taught you, so on its own can't teach you to read. While you can't buy the ALTA workbooks, anyone can buy the ALTA Spelling Dictionary ($120.00), ALTA Spelling Chart ($40.00), 6-in-1 Board Games ($600.00) and ALTA Reader Bk 1, 2 & 3 ($25.00 each).